The policy on solar power generation equipment introduction was disclosed by the national government of China at the end of May, following the previous announcement in 2018. On May 31, 2018, the government abruptly made a change to the scheme in the middle of the year. The entire solar power generation industry was greatly shocked by the announcement. The outline of the feed-in tariff (FIT) scheme for this year was announced on May 30, one day earlier than last year.
We interviewed president and chief commercial officer (CCO) Yan Zhuang, who is a Chinese executive, and senior vice president and chief technology officer (CTO) Guoqiang Xing, who is responsible for the solar panel system solution business, of major solar panel manufacturer Canadian Solar Inc. They visited Japan on the day after the announcement. We asked them about the outline and impact of the announcement, as well as the current situation in Japan.
Q: Chairman and chief executive officer (CEO) Shawn Qu, the founder of Canadian Solar, was hospitalized due to injury in early May. It was announced that president Zhuang will represent the CEO while he is absent.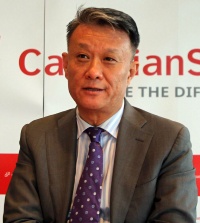 When chairman Qu will come back has yet to be decided. The results for the first quarter of 2019, which were announced while he was absent, exceeded the original estimation, and the stock price increased by more than 10% after the announcement.
Q: Could you explain the details of the "new policy" disclosed yesterday (the interview took place on May 31, the day after the announcement) by the national government of China?
The announcement was about certification of solar power generation equipment based on the FIT scheme, and the total budget for certifications in 2019 is 3 billion yuan, 2.25 billion yuan for utilities (centralized types) and 0.75 billion yuan for distributed types. Equipment with a total output of 3.5GW can be introduced with a budget of 0.75 billion yuan for distribution types.
The rights to both centralized types and distributed types are basically obtained by bidding. Centralized types and distributed types are respectively classified into three rankings, and they are evaluated based on the rule and priority order set for each. The details are partially unclear at this stage. It is possible that some of the details have yet to be decided.
One of the points that was made clear is that "priority will be given to the bidder with a smaller output scale" in case the bidding price is equal between similar projects.