Trina Solar Ltd of China is the top manufacturer of solar panels in the world and operates a global business. The company has also been expanding its presence in Japan by delivering its products to largest-class sites last year, including a mega (large-scale) solar power plant that started operation in Seto City, Okayama Prefecture and a solar power plant that is being constructed in Mimasaka City of the same prefecture.
We interviewed Jifan Gao, chairman and CEO (chief executive officer) of Trina Solar, who visited Japan in early March to attend an exhibition of solar power generation products, and asked about the company's strategies for its products.
Q: At the exhibition held in Tokyo in early March, focus was placed on panels (modules) mounted with "multi-busbar (MBB)"-type cells with a larger number of electrodes than conventional cells, such as solar battery cells (power generation elements) with nine busbar electrodes.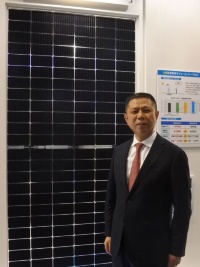 CEO Gao: The "MBB wiring" technologies are effective for efficiency improvement. The current generated on the surface of solar battery cells is collected by finger electrodes and then by busbar electrodes. If the number of busbar electrodes is increased, the distance for transmission of the current from finger electrodes is shortened and the internal resistance loss is reduced. Furthermore, impacts of micro cracks (fine cracks) and disconnection are reduced, increasing the reliability, if the number of busbar electrodes is increased.
Trina Solar holds 54 patents in MBB wiring technologies, including those pending, and has been involved in research and development into the technologies for many years. It is the top company in China in the shipment volume of panels mounted with MBB wiring.
In Japan, where land is limited, high-efficiency panels are needed because panels installed in the limited areas need to output more power. Japan is advanced in solar power generation and the market is suitable for introduction of advanced technologies earlier than other markets in the world.
Q: As for module lamination technologies, you are also putting a lot of effort into products that incorporate the "double-sided glass"-type cells, in which glass is used not only for the cover glass but also for the back protection material, which is normally made of resin sheet, and the "double-sided power generation"-type cells, which enables generation of power on the back surface.
CEO Gao: The double-sided power generation cells incorporate a unique N-type semiconductor technology and the efficiency is further improved through combining with MBB wiring technologies, and so forth. The N-type semiconductor technologies feature advantages including an increase of power generation amount from weak sunlight on cloudy days and a high durability due to a low long-term deterioration rate, in addition to conversion efficiency improvement.
Q: The N-type semiconductor technologies are incorporated in the hetero-junction-type solar battery "HIT" of Panasonic, but the production process is complicated and the cost is high, which are big issues, although the efficiency is high.
CEO Gao: It is true that the production cost of N-type solar batteries, which require more production processes, is somewhat higher compared with conventional P-type products. However, the installation cost is reduced because the number of installed panels decreases due to improvement of the conversion efficiency and they are effective for increasing the power generation amount. Therefore, we estimate that the final LCOE (Levelized Cost Of Electricity) will be lowered.
N-type solar batteries have yet to spread, but the demand for the products will increase greatly in a few years. The room for technological innovation including reduction of production costs is large, and we have been putting our efforts into the development.